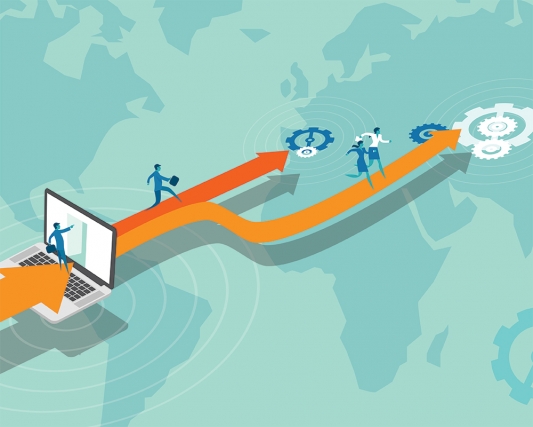 That is the question, but there are certain factors leaders should consider when deciding whether to outsource or keep learning in-house.
Outsourcing in learning and development has an inconsistent reputation. Full-time employees can lose their jobs; control over certain aspects of the business can be lost; or it ultimately cost more to outsource rather than to keep learning in house.
While there's some measure of truth to those protests, an effective L&D outsourcing program can have a positive impact on an organization. Chief Learning Officer connected with learning leaders to discuss when they know to outsource learning and development and how they choose the correct partner.
In fact, 53 percent of enterprises outsource at least some portion of their learning, according to an IDC survey from March. The study surveyed over 190 members of Chief Learning Officer's Business Intelligence Board about their attitudes about and plans to outsource learning. The study also found that 94 percent of those surveyed reported being satisfied with their outsourcing providers.
Chief Learning Officer connected with learning leaders to discuss when they know to outsource learning and development and how they choose the correct partner. What financial or strategic factors do they take into account while making decisions? What defines a successful relationship with a vendor? And how can a vendor satisfy an organization's needs without taking over too much of the learning function?
There are several aspects that should never be outsourced, according to Doug Teachey, director of learning and development at the Coca Cola Co.: learning strategy, vision and leadership. Outsourcing, he said, should occur when a company needs someone with a specific skill set for a short period of time and when the organization is going through changes.
In the case of changes within the organization, it may be uncertain whether something is a short-term or long-term need, so it's wiser to hire a contractor than hire a full-time employee who may end up being laid off a few months later.
Teachey leads the training and development effort for Coke One North American and heads a team of seven instructional designers who each have an area of focus. Whenever Coke has a big release, Teachey will add to his team's capacity by bringing in a contractor with a different skill set — such as finance. A full-time position can be added in the future if necessary.
"A few years ago, I had three instructional designers and six contractors [on my team]," he said. "But as we got further down the path, I saw I could add these full-time roles here because the scope was clearer and we knew this was a longer term need."
Justin Lombardo, chief learning officer of Baptist Health in Jacksonville, Florida, agrees that core competencies should never be outsourced. By outsourcing something connected to core business processes, you risk losing connectivity to your people, leadership and culture.
The more generic the better, Lombardo advised. In health care you could outsource strategies for infection control for nurses, which is fairly straighforward. But something more specific to the organization — like nursing policies around patient experience or how to create the best patient experience — should remain in house.
"The closer it is to core functions of the business and the closer it is into your role as a provider of culture and dimension, the less you should outsource," he said.
Tim Bray, vice president and global head of human resources operations, training and Asia Pacific at Quintiles, sees great value in outsourcing parts of the learning function. Many companies can't afford or aren't willing to invest the money it would take to stay current on new tools or technologies in, for example, instructional design, he said.
He asks himself two questions when making this decision: Am I getting the innovation I need from the existing training organization? And, can I scale the existing training organization to constantly changing needs in the business?
"Frankly, these days it's hard, with technology changing like it is so quickly, to keep an in-house training organization up to speed on innovative things," he said.
And keeping up with new technology is increasingly important. In fact, compared to previous years companies are more focused on adopting new technologies, according to Deloitte's "Global Human Capital Trends 2016" study, which surveyed more than 7,000 business and HR leaders.
The survey found more business leaders are embracing advanced learning tools, such as massive open online courses, or MOOCS. And tools like this are one of many that can be outsourced to an outside vendor.
Maintain a Strong Partnership
Like any business relationship, choosing the right partner is key in the learning leader/vendor partnership.
"If you're going to outsource, make sure to pick the right vendors early on so that you can stay with them long term," said Lombardo. "Moving them from vendor to partner is critical. You can't be flitting around and buying on a project base that's lowest cost."
In picking the right vendor, Lombardo prefers to hire smaller organizations — boutiques or individuals — that are more cost-effective and provide better connectivity with the people working for him.
Also important in choosing a vendor, he said, is selecting one with a depth of knowledge about L&D and learner-focused technologies. Too-generalized vendors sometimes lack the depth to be efficient in specific areas.
When you know a vendor's cultural values and competencies matches your organizations values and needs, you have the basis for a strong partnership. A trusting partnership is especially important so that both parties care about the outcome, said Teachey.
"If [my business partners] don't have some investment or input in the design, if they don't have some financial accountability or input in it, then it's just my baby. It's not a true collaborative partnership," he said. "I'm the single parent. And they're the other mom at the park criticizing my kid."
When he hires a contractor, he said he interviews them as if hiring them as part of his team. Since they're representing his brand, he wants them to fit in the team he's already built.
A major concern of outsourcing learning is losing institutional knowledge, he added. You go through a lot of effort to find the right vendor, invest a lot of time and money in that contractor just like a full-time employee, and when they eventually leave the company, they take all that institutional knowledge with them. The organization also has missed opportunities for internal growth and development as well.
Teachey finds it useful to rely on pre-existing relationships. Have a few reliable venders that specialize in a certain area and go back to them whenever possible.
"You have to think about it all the time if you don't already have a contractor in place; for Coke, it could take a couple of months," he added. "Once you have it in place already, boom, we're rolling!"
Company cultures that mesh is just important to the vendor as it is to the client.
"If there have been any glaring failures in the world of learning solution outsourcing, it is typically due to that problem, in that someone had a hammer, and everything looked like a nail," said Tracy Cox, director of performance consulting and director of global development at Raytheon Professional Services. "And they didn't bother with adapting."
Adapting to a company culture is key as a vendor, he added, and it's important to run a diagnostic on the client up front and understand its core values, goals and aspirations. From their, the vendor should tailor its approach to fit said culture.
The Impact of Outsourcing Learning
When a company's learning department and its vendor have formed a strong partnership, both sides can benefit. A company can use outsourcing to create new learning competencies in full-time employees, for example.
"When you outsource, you get people who are current on the latest trends of learning, understand different aspects of populations and different modalities, and they can really force your internal team to up their game, said Lombardo.
This is true in health care, he added, where he as a learning leader will adopt a new system before he has the chance to create new competencies in the learning staff. Here's where working with professionals, experts who have advanced degrees in learning, comes in handy.
Outsourcing may also help learning professionals know what's trending in innovation and how people want to learn, said Bray.
"Where we're getting innovation now is instructional design where they're bringing in different points of view on how to onboard and train people — giving them bite-sized bits rather than giving them the whole load the first day," said Bray.
Part of problem is employees are overwhelmed, he explained. The employee experience, especially with millennials, is such an important thing and you have to pay attention to how people are receiving training in a way that makes it simple and fun. Learning material frequently is being delivered to people's phones and tablets as opposed to all-desktop-oriented training.
Choosing the wrong vendor can have disastrous effects, said Teachey, who has fired vendors for not being focused enough on the project or burning through the budget halfway through a project.
Teachey added that when companies look at outsourcing from a cost rather than a value perspective, they get what they pay for. Going for the cheapest vendor might result in low-value instructional learning, whereas a company has a better chance of seeing positive results by forming a partnership with a quality vender.
With a strong, culturally compatible, strategic relationship, a company can grow its learning function beyond in-house capabilities that also provides the vendor with deeper knowledge and more experience in a particular specialty.