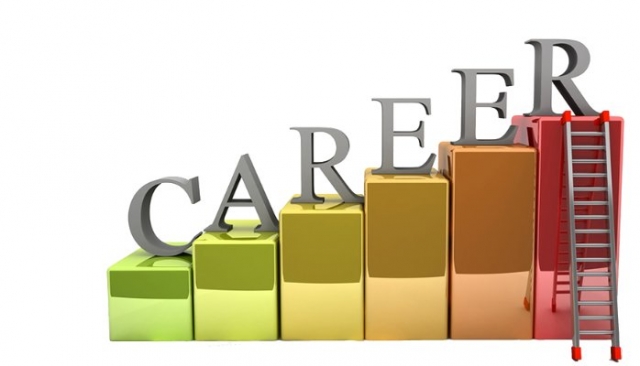 "If you want to achieve greatness, stop asking for permission." - unknown
Every employee would like to climb the corporate ladder and be at the top. However, each wonder what has to be done in order to get there. Some feel that it is not attainable except with some stroke of luck.
What does career progression really mean? The Cambridge Business Dictionary defines "career progression" as "the process of making progress to better jobs". Some have described "Career progression" as "climbing the corporate ladder"; "getting ahead"; or even "working up the ranks". In a nutshell, it means that as you gain experience in your field you should earn more challenging projects and responsibilities. The downside of career progression is that, it's more work for you. As the popular saying goes, "the reward for good work is more work". However, career progression also has an upside. The upside is that you get a better title, higher pay and increased prestige, which is essential for building a successful career now and in the future.
Career progression in Nigeria is not an "utopia" – "an imagined place". It is a reality, as several stories abound of people who have joined organizations from a lowly position and have risen to the peak in their career. I will give us just one example here. Take the case of Jim Ovia, the co-founder, former CEO and now Chairman of Zenith Bank. Jim Ovia started his working career as a clerk at Barclays Bank, DCO, and now Union Bank in 1973. Thereafter he worked as Financial Analyst at International Merchant Bank (IMB) where he rose to Senior Manager Position In 1987. From 1987 to 1990, Jim was the Head of Corporate Finance department at the Merchant Bank of Africa. In that same year 1990, when Zenith Bank was founded, he was appointed its pioneer CEO. This is a good example of rising from the low level to the peak of the banking career. And the examples go on in various sectors of our country, Nigeria.
There are several things you need to do in order to map out a steadily growing career path. I will be reviewing just seven of them, which I consider key:
I believe that the critical decision is "determining your choice career". Go for your passion. Don't look for a job, look for something that you are passionate about and enjoy doing.
Get all the information you can on this choice career, and what it would take you to grow from entry level to the peak of the choice career.
When you have acquired the necessary skills and secured an entry level position in your choice career, it is advisable that you do your work very well. Don't belittle the work given and carry it out haphazardly, as the quality of your work will speak for you when the need arise in future. You never can tell who is watching. When a higher responsibility or opening becomes available, you will be surprised how others would rate your hardwork and dedication to duty.
Find someone who has reached the peak of your chosen career and seek guidance. If possible, ask to be mentored. Mentoring is key to becoming the best and would make it easy for you to reach the peak of your career quickly. Because the mentor has been there before you, you do not need to reinvent the wheel. You will receive appropriate guidance that would help you rise very fast above your peers.
Invest in improving and developing yourself. Don't wait for the organisation you work for to send you to training, before you think of developing yourself. Find out what is the new trend in your chosen career and keep yourself abreast of these developments, and acquire new skills that will enable you become more productive and efficient. Acquisition of these new skills will enhance your chances of moving one ladder up.
Have career discussions with your manager, whenever possible, to find out what is required to grow and move to the next level in your place of work. Put these things into action, and check-in from time to time with your manager to find out how you are doing and how you are being rated.
Look out for professional associations in your chosen career, as well as groups on LinkedIN and Facebook. Join these groups in order to network with professionals. You will get to learn alot and opportunities for advancement would usually present itself. You need to be ready, so that when opportunity presents itself, your breakthrough will show up.
How do you determine that you have reached peak of your career? The peak of one's career is what you have defined for yourself. As a young HR professional, the peak for me would be to grow from a HR Intern or HR Assistant, for example, to becoming an HR executive. For someone in the military, it would be rising from a constable or private to a general. As you know, the road is not usually easy, however, if you do the right things at the right time, doors of opportunity will show, and when it shows and you are ready, your breakthrough will become apparent.