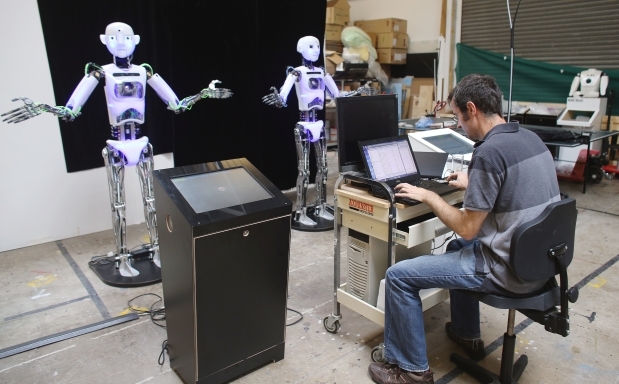 By ramblingrecruiter
I get an email. It says "Your profile is interesting and we would like to meet you." I'm sure a system screened my resume and assigned a bot to write me this mail. Soon I realize that the meeting has been scheduled via a Video Call. I sit back and wait for the call. As soon as I get in the call, I see some questions on the screen and all I had to do was answer those. Some were objective and some were subjective. Soon After I answer all the questions, the system says "Thank you Kunjal for your time, here are your results" [2 minutes silence!!!!] I was hoping that the bot would say "We will get back to you soon with the results" But that was pretty quick (and impressive).
So, moving on. Fortunately I did crack the interview. I soon got another email inviting me for another round. I was hoping it to be in person. Well, it was in person but there was no person in the office!!!! I was surprised to see a bot moving around and soon it entered a conference room. And another bot at the reception announced my name and I walked into the conference room. To my surprise a Beam Robot welcomed me and asked how my day was going. I was speechless as I could see a human actually interacting with me through this Beam Robot. That person was some 500 miles away from this location, but it was able to move around and interact with me.
Okay, so moving on, the interview did go well and I was hopeful to make it through. To make things more interesting, the Beam Robot escorted me to the reception. Out of habit, I put my hand out for a handshake but it struck to me that it was just a robot!!!! So, after a few days, I received a call (Not sure if it was a bot or a real human) Anyway, I was more keen to know my final result. Fortunately, I did make it through and they offered me a job.
Now the real fun begins
My first and last day at office!!!!! Yes, you read it right. Just wait till you realize it. I was there for my Induction and it was all done by a Beam Robot. This time, there were real humans behind the screen and I was able to interact with them. Some were based outside the country, some were 300 miles away from this office. So I wondered, where will I be working from. Soon I realized that I was going to work from home. But, my new bot was going to work from this office! So I don't get a laptop on my day one (or on the last day at the office), I get a beam robot.
PS: I had to draw this line to tell you folks to come back to reality. Trust me, this is going to be a reality soon. In fact, this has already started in some or the other way. This year's SHRMTECH16 had this on display and it was actually moving around and interacting with participants at the conference.
So, do you think Future of Recruitment is scary, exciting or boring?!