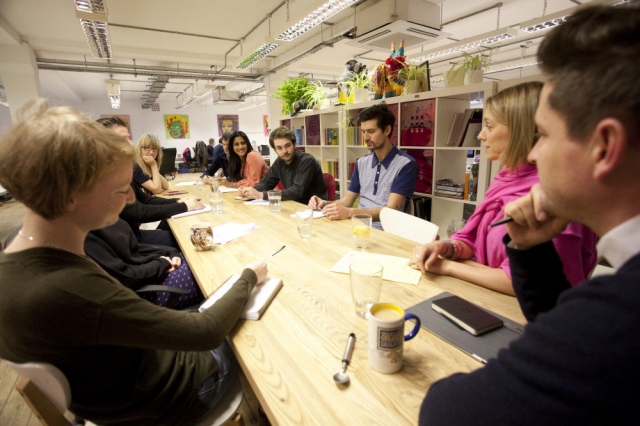 By Joshbersin
I had a meeting with a client last week and we were talking about their learning strategy, content infrastructure, and the need to build an overall end-to-end culture of development. During the conversation I mentioned the phrase "a self-developing organization." And the phrase seems to have stuck.
Think about the challenges we have in businesses today: technical skills evolving rapidly, an endless supply of well developed learning materials (MOOCs, online learning, internally developed content), and people who want and expect to learn whenever they need it.
And business and HR leaders are struggling to build a culture of coaching, feedback, development, and mentorship. More than half the workforce is now Millennials and what they ask for the most is someone to learn from.
To me this is the definition of the "Self Developing Organization."
Rather than think about your learning and HR strategy as one of "delivering training," think about it as "creating a self-developing organization."
A "Self-Developing Organization" does the following:
Education and learning content is readily available to anyone, and it's easy to find and use
People make time to teach and coach others, and they are rewarded for it
The company stops and investigates its mistakes, making sure teams learn from failures
Formal learning programs are easy to access and highly regarded, so people regularly use them
Leaders at all levels teach classes and workshops (professional, technical, and senior executives)
Onboarding is a serious and formal effort, with a focus on making people productive regardless of where they come from
Every job has a transition management program to help people learn the job from internal transfer
Learning technology is modern, easy to use, and fun
Individuals are rewarded for self-development
Books, magazines, and other external research is readily available (one hot company I just talked with gives free books to any employee who asks)
People are hired for their "learning agility" and ability to teach themselves (another client told me this is their #1 criteria for new hires)
Learning is valued as part of the culture, and remains in place during good times and bad.
Let me give you an example.
Deckers Outdoor Corporation, the makers of UGG boots, TEVAs, and other popular footwear, looks at learning as a core part of every job. Stephanie Demiris, the chief learning officer, is responsible for corporate learning, employee engagement, and employee communications. As she states it, "learning is the most important thing our people do." So with that vision, she and her team have built a fun, exciting, always-on learning environment that includes a digital learning portal, activities and artifacts in the office, and a focus on learning at all levels. She looks at learning as a part of employee engagement and communications, bringing all elements of learning into one focus. Rather than only buildi a "training center" or a series of "learning programs," she has developed a whole environment of learning which empowers people to learn every day on the job.
Is your organization a "self-developing organization" or are you always trying to push learning and development on people? Rather than focus on "marketing learning" and measuring learning to prove its output, maybe you should think more about making learning available, easy, and part of the reward system.
As I think back about all the companies I've worked with over the years, the best companies of all are filled with "self-development." Engineers, sales people, managers, and executives are always learning, and it's just part of the way they do business.
Think about this in the context of your own team:
In the coming years, "self-developing" organizations are going to out-perform and out-deliver their peers.