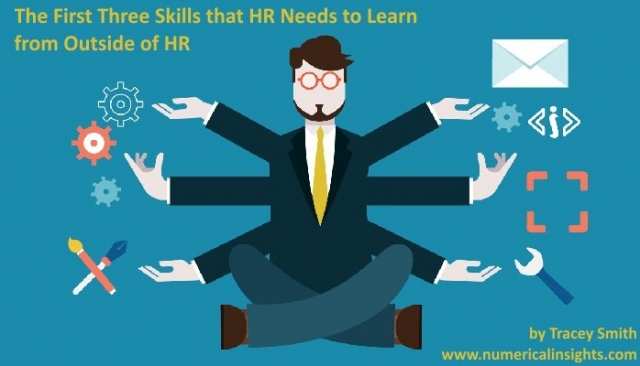 By Tracey Smith -Top 50 Global Influencer in HR Analytics | Business Insights | Speaker | numericalinsights.com
Many HR teams struggle to move forward to meet the needs of their CEOs and CFOs. Part of the issue is that HR does not have many of the skills it needs to migrate the HR Business Partner role into what is needed today. These missing skills are not taught in HR university programs, so the responsibility lands in the lap of the corporate world to teach its own employees.
Where should companies start? Below, I have listed the first three skills on which I believe HR should focus. I could list several more such as innovation, but these first three are the ones that "leap out at me" every time I enter an HR team.
Basic Financial Knowledge
How can we expect our HR employees to make good financial decisions or recommendations on the direction of HR programs if we haven't taught them basic financial skills? If they don't understand how to read the three basic financial statements (balance sheet, income statement and cash flow statement), and understand certain financial metrics, how will they spend their HR budgets to maximize value to the business? How will they "speak the language of the business?" Unless your HR team has several MBAs in it, you will probably benefit from teaching HR about these financials. To date, I have only heard of one company who trained all of their HR staff on this topic. (If your company has, feel free to tell me.)
Project Management
Having spent the first ten years of my career as a mechanical engineer, project management has become second nature. When my career led me into a Fortune 500's HR department, I was a Business Strategist and responsible for leading strategic HR projects. It didn't take long to realize that the members of my teams had little to no project management experience. Previous project leads allowed these projects to drift along and they were almost always behind schedule.
Does this happen with your HR team? Are you always pushing completion dates into the next quarter?
The project management skills I used in HR were by no means the extensive version I used in engineering. I don't expect HR employees to be versed in PMBOK, the book of knowledge provided by the Project Management Institute. What I did try to teach my HR team members was:
How to develop a basic project charter to scope the project activities,
How to read the project Gantt Chart I generated,
What it meant to be assigned a task on the "critical path" (very important), and,
How to manage the project's open issues list.
After leading a few projects for this company, I received several comments from the HR leadership about how much they learned from me about project management. At the same time, I was holding 15 minute classes on the use and benefits of SharePoint for sharing project files, communications, etc. instead of using email. Have you had people answer emails that are 5 "versions" old? I used SharePoint for a lot of this to keep everyone up to date "real time" since I had team members in 5 global regions and one high-priority project was moving faster than email could possibly deal with.
Business Acumen
We've spoken of this need many times. HR has traditionally had a very narrow focus and the members of HR have not usually gained any experience outside of HR. Short, rotational assignments or job shadowing would be a great benefit here. Having project team members from outside of HR contribute to HR projects is also a good idea. How can HR have a holistic view of how their choices and changes impact other areas of the company if they only understand how it will affect HR?
In Summary
I think it is a large enough challenge for HR leaders and educators today to create a plan and execute an initiative to develop these three skills in their HR employees. Let's spur some action in these three topics and put HR on a path to creating more value.